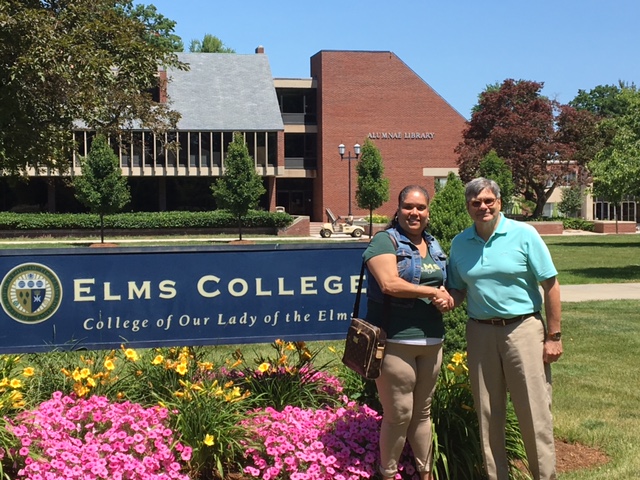 The 2016 (and second) award recipient of the Helen Hamilton Scholarship is Ms. Daisy Hernandez. Daisy was brought up in the north end of Springfield in an area she describes as "poverty stricken and struggling with drugs and gang violence every day". She is a graduate of the High School of Commerce and Holyoke Community College where she received an Associate Degree and is now enrolled at Elms College in the Bachelors of Social Work program, on track to graduate in May of 2017. After graduation, Daisy hopes to attend a graduate school that offers a dual degree program in social work and law. Although her current area of study is clinical practice she hopes, while in graduate school, to concentrate on policy and law. Her top four choices for graduate school are Springfield College, UCONN, Boston College, and Smith College.
Besides the Hamilton Scholarship Daisy has also received other scholarships and awards including the Jane Gilman Award for Excellence in Human Service, the James F. Connors Educational Scholarship, and the Elms College Presidential Educational Scholarship. She currently serves as Vice-President of the Elms College Student Social Work Organization and is the founder and co-president of the Elms College diversity leadership council. She is also active in numerous civic organizations in the Springfield area, all while raising a teen age son as a single mother.
It would seem that Daisy Hernandez has a bright future ahead of her but it wasn't always that way. In the sixteen years between her graduations from high school and community college, Daisy managed to become addicted to drugs and, as a result, a seller to support her habit. She was subsequently arrested, charged with possession with intent to distribute, and served five years, something she says was the best thing that could have happened to her because it forced her to attend a program sponsored by the Sheriff's department that made her focus on education and service to others. "I don't blame my parents or my environment. I did these things and I had to pay a price for it. Fortunately for me, I was sent to the Western Mass. Regional Women's Correctional Center, a place that doesn't allow you to be idle and then a program stressing education and rehabilitation. It probably saved my life". Daisy is very grateful to the men and women at the Hampden County Sheriff's department for their commitment to turn her life around and continues her involvement with the program by volunteering for an after incarceration support services program with the Hampden County Sheriff's department.
As if the incarceration wasn't enough to defeat her spirit, Daisy also had to endure dialysis for nine years because of a medical condition that impaired her kidneys from functioning properly. Fortunately, a donor was found and she underwent a successful kidney transplant.
Daisy told me she was very proud that she received the Helen Hamilton Scholarship because, from the little she has learned from the website, she was struck by Helen's tireless advocacy. Daisy hopes that she will someday be able to follow in Helen's footsteps as she is also interested in organizing at the grassroots level.
One thing is certain. Like Helen, she is a fighter.