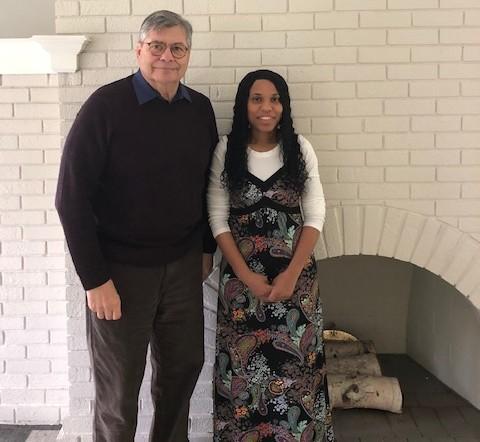 Nathalie Orelien
2019 Winner
Helen Hamilton Scholarship
The 2019 and fifth award recipient of the Helen Hamilton Scholarship is Ms. Nathalie Orelien. This year's scholarship award is for $1,200. Nathalie, in the final stages of achieving her Master of Social Work degree at Westfield State University, is an outstanding example of someone who has overcome enormous obstacles to get to where she is today.
It all started when Nathalie was eight years old and brought to New York City by her father from Haiti for a better life. Although there were many benefits to living in the USA, she also experienced first-hand the taunts and name calling directed at a person of color unfamiliar with the Country and the English language. "I did not know color would be a problem here because in Haiti, I looked like everyone else". After graduating from high school in 1998 she enrolled at SUNY Farmingdale but had to leave after only one semester due to a lack of funds.
She then enrolled in Job Corps for a two-year stint and that brought her to Western Massachusetts, via Westover. At Job Corps, Nathalie learned valuable life preparation skills and focused her concentration of study around nursing and business administration. After successfully completing Job Corps, she enrolled at STCC to pursue an associate degree, even though she had little to no financial resources.
Unbeknownst to her at the time, it would take Nathalie almost 17 years to earn that degree due to a combination of lack of finances and the birth of a daughter with severe special needs. But that didn't stop her. She subsequently transferred to Holyoke Community College because she found this an even more affordable option than STCC and took a course here and there until she earned an associate degree at Holyoke Community College. In 2016, she enrolled at Westfield State and graduated in 2018 with a Bachelor of Social Work degree with a 3.93 average.
It was around this time Nathalie accepted a position at the YWCA working as a direct service advocate in a teen shelter program. She continues to work full time on the overnight shift while also caring for her daughter as a single Mom and continuing her graduate studies in Social Work at Westfield State University. She expects to graduate in May of 2020.
Helping her every step of the way has been her church and her faith. "My church became my community, the center of everything for me. It helped me get through some rough times and kept me grounded". Nathalie has been actively volunteering at her church as well as the Springfield Rescue Mission and Food for the Souls Pantry and Soup Kitchen program.
Nathalie cannot help but think about the past when reflecting upon her future, how she got here and what direction she intends to follow. Following on her own experience, her mission in life now is to create a non-profit organization focused on helping young Haitian women improve their living conditions. While the organization would be based in the USA, she knows this means she will be spending a good part of each year in Haiti. She thinks now a lot about how the good acts of others have impacted her life. "So many have thought about me, it's time for me to give back".
She asked me to convey the following message to the donors of the Helen Hamilton Scholarship: "I hope you truly understand the importance of what you are doing. You are changing lives. You are changing my life. Thank You. Your commitment motivates me. It shows me you care enough to make this investment."
Strong, decisive, articulate. Nathalie possesses the quality of "sticktoitiveness" that Helen frequently mentioned and greatly admired. I have a strong belief Helen would be very pleased with this scholarship award.